Performance enhancing suits have long been used in athletics—this year's Olympics saw a body suit meant to reduce drag while running, hot pants to keep cyclists' muscles warm, and the Fastskin3 system to help Michael Phelps and others swim faster. Although used in different sports, these wearable technologies all have one thing in common: they work with the athlete's body to help him or her reach optimal performance levels. In another high-intensity field, scientists are working to help improve physical endurance through flexible, smart suits that respond and act with the body's natural cues. That field? The Armed Forces.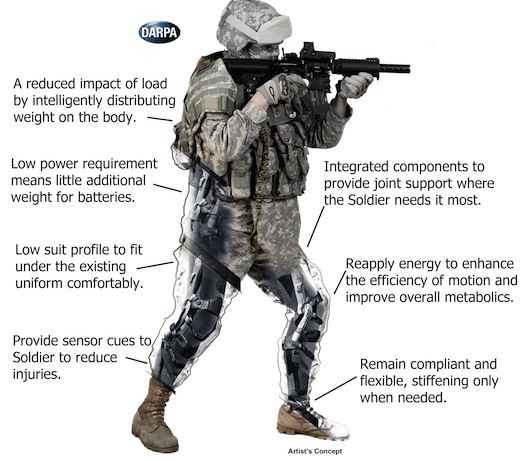 As a part of the Defense Advanced Research Projects Agency's (DARPA) Warrior Web program, researchers from theWyss Institute for Biologically Inspired Engineering at Harvard University have been awarded a contract worth $2.6 million to create a "wearable system that would potentially delay the onset of fatigue, enabling soldiers to walk longer distances, and also potentially improve the body's resistance to injuries while carrying loads."




Robotic exoskeletons have been a longstanding goal for the military. Until recently, they've faced several major obstacles. Existing 'Super Suits' often fail because of their weight—which is ironic, considering they're meant to alleviate the stress of heavy burdens, not add to them—but when they're not actively running, they just create excess weight on top of a soldier's already substantial load. And because they require a considerable amount of power to operate, extended use in the field would mean that extra batteries have to be factored in as well. Finally, even when these suits are active and doing their jobs, they don't have the response time or range of movement that a human body does, which is especially crucial in live combat situations.
Watch a video of an existing exoskeleton, the Raytheon Exoskeleton below:



The Wyss suit is still just a concept and some of these limitations—such as the battery issue—will surely have to be resolved in the lab, but the ideas that won the award stem from the fact that the suit will be soft and flexible, working with the soldiers' bodies instead of adding more gear and bulk to their frames. The sleek design will fit easily beneath uniforms and body armor and incorporate biometric feedback to assist the soldier. For example, when stretchable sensors detect the onset of fatigue, the suit might send out subtle vibrations to soothe or boost critical areas such as shoulders and knees.


In a press release following the announcement of the DARPA award, Wyss Founding Director Donald Ingber, MD, Ph.D, said:
This project is a excellent example of how Wyss researchers from different disciplines work side by side with experts in product development to develop solutions to difficult problems that might not otherwise be possible.
While the end product is still a total unknown, there are a number of existing projects by Wyss researchers in the fields of soft orthotics and wearable robotics (such as the Bio-inspired Active Soft Orthotic Device for Ankle Foot Pathologies pictured above) that could be drawn on by the Smart Suit team to realize their goal. Others include a new 'Soft Artificial Skin' and an 'Active Modular Elastomer Sleeve for Soft Wearable Assistance Robots'.


The potential for such suits is tremendous. Emma's 'Magic Arms' [pictured above] made an incredible difference in the life of a young girl who previously couldn't move her arms. A successful design might allow a person with a spinal injury to walk again, or just give us all hope for better mobility in old age. Just like in sports, understanding the body and making high-tech suits that work with natural physical movements can help enhance performance. Jobs like construction, shipping, or any requiring heavy manual labor would be obvious fits if the technology were available. Even day-to-day issues such as improving posture and comfort while sitting for long hours in an office job could be improved.
Although we may already have the technology to augment human capabilities, until now, it hasn't been combined in ways that made sense for daily use. Whereas the exoskeletons of the past were looking to replace the human body, the researchers at Wyss are drawing their inspiration from biology's successes and building novel solutions to work alongside the body's natural movements to provide an extra lift, boost or support where it is needed.